Cody Libolt, Worship Pastor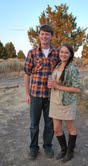 Cody Libolt is from the Pacific Northwest.  There he studied at
Humboldt State University, taught school music, and met his wife
Sasha.  Cody is an M.Div. student at Southern Seminary, and he has a
heart for people to know Jesus and to know God's Word.  Communication
is a big part of music ministry, so please bring any questions or
input without hesitation.  You can reach Cody at
clibolt@fbcfairdale.org.